European Space Agency
In May 2010, interest was expressed by the European Space Agency (ESA) in using Bermuda as a monitoring Earth Station for one of its rocket launches from French Guiana which was scheduled for a later date that same year.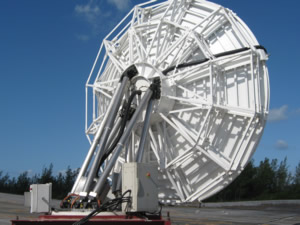 A meeting was arranged between Government, interested parties, and a team from the French Space Network who presented the purpose of their visit and discussed issues relating to a suitable site for a temporary Earth Station which would monitor the scheduled rocket launch from French Guiana.
As it turned out, the ESA after checking several sites in Bermuda, decided that the former Nasa Tracking Site at Cooper's Island would best suit their interest. Everythng the ESA needed was contained in their portable mobile tracking equipment.
Time passed, but by September 2011, an article appeared in the Royal Gazette with the headline: "European Space Agency sets up shop on Cooper's Island."
The article after mentioning that Cooper's Island was returning to it's former use as a tracking station went on to say that should the mission prove successful, the agency could become a more permanent fixture at the location, staying for as long as five years. (souce: Royal Gazette Fri Sept 30, 2011)